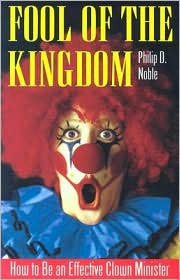 Books Ministry Fool of the Kingdom
Fool of the Kingdom
by Philip D. Noble
True clowns of God aren't known by their big red noses or floppy shoes
they're known by their hearts.  Philip D. noble (aka Rainbow) gives an
insider's view of clown ministry in this book of anecdotes, sketches and fun.
Helpful hot to information included on developing a clown character, juggling, clown makeup, gospel magic tricks, and much more!  Also includes 16 clown tested sketches, including To Receive A Heart, Like Sheep, The Snowflake, Labels.
193 pages
---
We Also Recommend