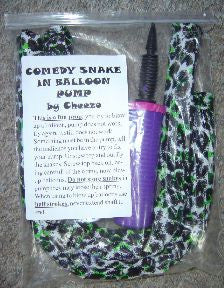 PROP
Comedy Snake in a Balloon Pump
by Cheezo
Now with the new Qualatex green balloon pump
This is a fun prop!  You try to blow up a ballloon, pump does not work. Try again, it still does not work.  Something must be in the pump, tell the audience you have to try to fix your pump. Unscrew top and out fly the snakes. Screw top back on, being careful of the o ring, now blow up balloons.
DO NOT STORE SNAKES in the pump, they may lose their spring. To blow up balloons, use HALF STROKES, never extend shaft to the end.
---
We Also Recommend